0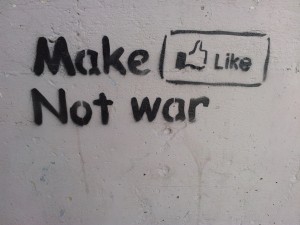 The QR Droid Zapper marketing team just had the opportunity to attend Madonna's opening concert of her new world tour.  And how, you might ask, can we possibly tie-in the Queen of Pop with environmentalism and QR codes all at the same time?  Bear with us, and, like Madonna in the midnight hour, "we'll take you there."
Madonna named her tour (and her new album) MDNA, in an almost-Hebraic fashion, using only the three consonants of her name (and a final "A"). It was perhaps fitting then, that she chose to kick off her tour in Tel Aviv, Israel, where she made a big push for peace in the Middle East by giving away free concert tickets—and a specially designated "Working for Peace" seating area—to 600 Palestinian, Arab-Israeli and Jewish-Israeli representatives of peace-focused NGOs.  She also gave a rousing pro-peace speech at the mid-point of her 20-song show, in so many words echoing Rodney King's famous 1992 can't-we-all-just-get-along plea in Los Angeles.  But in light of Madonna's gruesome gun-toting, blood-spattered, verbally and visually explicit opening set, her request for everyone to "rise above ego and treat each other with dignity," while heartfelt, couldn't help falling a little flat.
Still, Madonna's work ethic is undeniable and consistent after all these years.  In true Madonna fashion, she poured herself into every aspect of the show, and the visual artistry, acrobatics, dance choreography, and wide range of performance styles did not disappoint.  The crowd in Israel, 33,000 strong, enthusiastically received this iconic performer and a show which was divided about 50-50 between old Madonna standards such as "Like a Prayer" and "Papa Don't Preach," and brand-new jingles like "Girl Gone Wild" and "Masterpiece."
So where do the "QR codes" and "green" come in to the picture?  Unfortunately, not at all, but it would have been nice if they could have.  As we were leaving the Stadium at Ramat Gan, our ears still ringing with echoes of Madonna-ness, we were met at every exit gate with team-Madonna members handing out stacks upon stacks of paper postcards inviting concert-goers to Madonna's scheduled show in Barcelona on the 20th and 21st of June.  And beyond those tables, the ground was strewn with these cards that were just dropped unceremoniously by attendees who didn't really want one in the first place, or had absorbed the information in seconds.  And this is where Madonna, who spared no resource in installing a state-of-the-art, custom-built, 3-story-high stage complete with high tech video screens, moving platforms, cables for acrobatics, and more, could have at least made a difference for "green" in the Middle East, even if she couldn't move the needle for peace.
What we here at QR Droid Zapper could envision for the "Queen of high tech performance art" is a high tech farewell to her fans.  Madonna, for your next show, please provide each of your workers with a snazzy looking smart-device with a custom-designed MDNA-branded QR code emblazoned across the screen.  These little 2D codes (as high tech-looking as all those cool graphics displayed on-screen during your pre-show party) can then be scanned instantaneously by the smart phones of passersby…  Can you envision it?  Just like your cone-shaped brassieres and evocative bumping and grinding, having an army of smart-phone toting ushers saying goodbye to fans would peak interest (possibly even more so than the cone-shaped bra, which, truth be told, is getting a little old).  Plus it would save the trees which were cut down to be made into those bits of paper which would only remain in the hands of the intended audience for a matter of seconds.  The QR-code stunt would save on water and inks, used in the printing process.  It would save on the energy required to both print the postcards and tote them to the event.  Come on, Madonna.  You can do better.  And the cost of one smart-phone per exit, plus the cost of the QR code development, would probably be WAY cheaper than printing all that paper.  Madonna, you see, there is a better way!  You can still "Express Yourself" – but just do it digitally next time!