3
We are happy to announce that QR Droid has been downloaded more than 10,000,000 times in only 14 months! The app has just entered the exclusive club of TOP downloaded apps in the entire Android Market.
This is a great accomplishment considering its only marketing strategy is mouth-to-mouth recommendations. It has been possible only because of you and we want to thank you all!  Thank you for using this app and thank you for recommending it to your friends!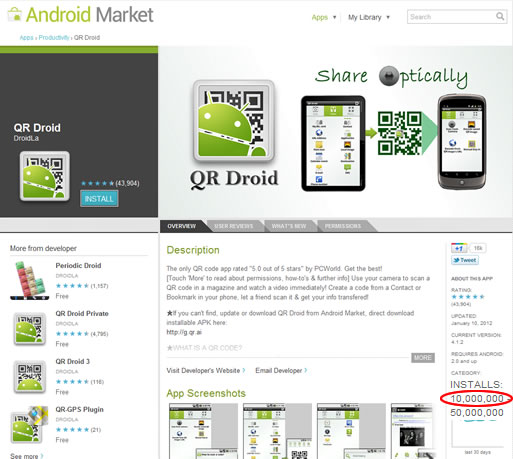 QR Droid has surpassed this huge threshold only 14 months after its first launch!
Taken from: https://market.android.com/details?id=la.droid.qr
 These posts reflect the growth that QR Droid has had during its still short, but successful, life! 
Reaching this milestone really motivates us to continue making QR Droid even better! We're reading all your great comments and recommendations and we're implementing them, so keep checking QR Droid in Android Market for updates and improvements!

If you still don't have best QR Code scanner, decoder and generator available for Android, get it here:

Or learn more about it here: