3
QR Droid has been installed in more than 5 million Android devices!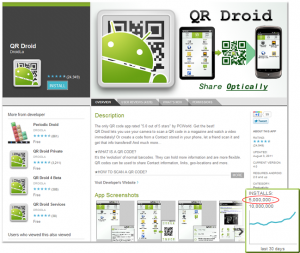 Taken from: https://market.android.com/details?id=la.droid.qr
In less than 8 months, QR Droid has became one of the most popular apps available in the Android Market. Just a few months ago we were celebrating QR Droid's first 250k, 500k and one million downloads. And we hope it surpasses its first 10 million downloads soon. Update: QR Droid has been downloaded more than 10 million times!
We want to thank you all for using QR Droid, for recommending it to your friends and for sending your comments and feedback to info@droid.la. That really helps us to improve QR Droid even more, and add in the features that you want the most!
If you still don't have best QR app for Android, get it for free here: