1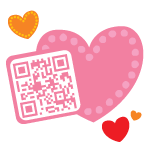 It's been said, "Lucky at cards, unlucky in love."
We believe you can be lucky in Codes *and* lucky in love, too.
QR Codes can transform your Valentine's Day celebration into something really special.  Add a level of mystery and fun by sprinkling QR Codes into the mix. Your honey will have fun decoding your message and you can lead a sexy scavenger hunt or a fun tour of your story together through favorite songs, websites featuring special memories, links to cities you've visited (or want to visit)  together. All accessed through QR Codes.
Create QR Codes in your app.
The Android version is "QR Droid", and you can download it from Google Play or here.
The iOS version of the app is "Zapper Scanner," and you can download it from iTunes App Store or here.
Another way you can generate QR Codes is from our website.
Then tell us how it went. Share your story on our Facebook page. We're running a contest to see just how QReative our QR Code community is. Tell us! Make it funny. Make it serious. Make it romantic. The entries with the most "likes" will win prizes and enjoy the admiration of our worldwide fan community. Not to mention our undying love.   
Cash in with the best smartphone barcode reader around!
We're also tossing in an additional prize to the one person who makes the most noise online about this contest by sharing, tweeting, and talking it up big.
So join us by doing something special with QR Codes for your Valentine and telling us about it.
Your warm heart can be rewarded with cold cash gift cards!