2
Do you use a single QR Droid feature much more than others? For example: some users always use QR Droid just to scan QR Codes from camera. Others generate QR Codes from their contacts all the time, an so on.
Now, you can scan QR Codes, decode QR images, share any contact, encode any text… everything with one single click in your Home screen. Check out this Home screen capture: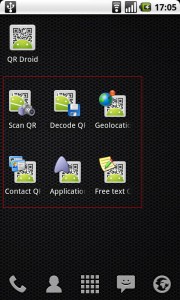 As an example, this shows 6 shortcuts to access directly to these QR Droid features. Of course, you can create any number of shortcuts, for any of 12 options in QR Droid main menu.
Now, how to create these shortcuts in your Home screen? First, here is what you need:
An Android device, with OS v2.0 or greater
QR Droid, v3.2 or greater. If you still don't have the best QR Code scanner, reader and generator in your Android, get it for free here:
After you meet these requirements, just watch this video or follow these detailed steps:
Long press your Android Home screen and select "Shortcuts"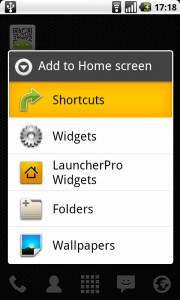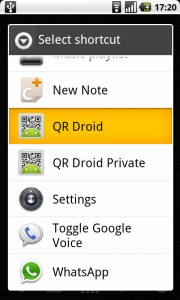 QR Droid main menu will be opened, with a message on top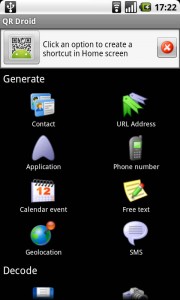 Finally, just click one item. You can also click top-left icon to create a shortcut to QR Droid main menu.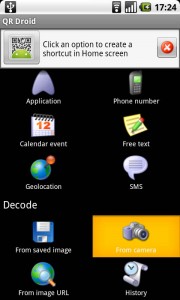 …a shortcut for that item will be created. It's that simple!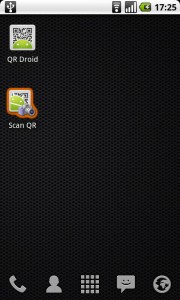 If you have QR Droid v3.4 (currently, latest version) or greater, you can even create a shortcut that opens directly a QR Code! This is very useful, for example, to share your contact information with one single click. Now, you don't even have to explore your saved contacts and select one to share it; a click in Home screen is just enough. To see how to do it, read this post:
http://qrdroid.com/blog/share-your-qr-contact-card-optically-with-one-click