0
If you need to share any short to medium text very easily and quickly, consider doing it optically though QR Codes. In this post, I'll show you how to do it, no matter what app that code is in, as long as it can be shared or copied.
First, you'll need an Android device with QR Droid installed on it.  If you still don't have this app, get it for free here:
Generate QR Codes using "share" option from any app: I'll show how to do it from the Browser. You can do the same from any other app that has a "share" option.
Open Browser and go to page you want to create a QR Code from.
Go to option "Share". In this case, just long press address bar and select "Share page"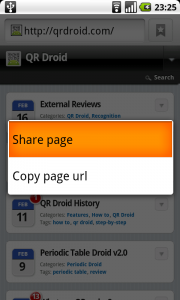 Next, you'll see an option called "Encode as QR image", choose it
Automatically, QR Droid will be opened. Now, you can modify anything to control exactly what to share.
Just press top-right button to get your QR Code. Anybody else will able to scan it directly from your screen. You can also save it or send it.
Generate QR Codes by coping text from other app: If you need to share text from an app that does not have a "Share" option, just follow these steps. For example, let's share some text shown inside a Web page.
Open page that contains text to be shared, press Menu > More > "Select text"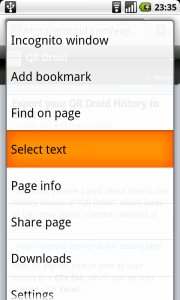 Select text to be shared, and copy it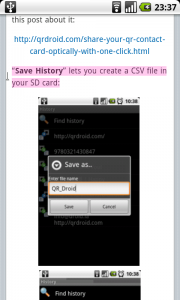 Now, just exit the Browser and open "QR Droid". From its main menu, choose Free Text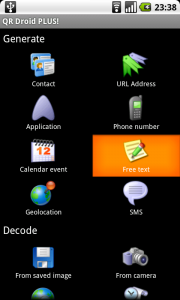 After you open this option, your text will be pasted automatically. Just edit anything you want. When ready, just click top-right button