3
If you use QR Droid in your Android device, you know it allows you to create QR Codes from almost anything!
Also, if you want to share a Webpage encoded as a QR Code, you can shorten it first, so your QR Code has less information and, therefore, is compatible with more readers.
But now, starting from QR Droid 4.0,  you can take more benefits from short URL: Stats!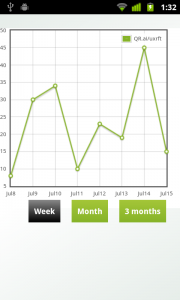 To use this feature, just follow these steps:
If you don't have QR Droid 4.0 in your Android yet, get it fro free by clicking or scanning this QR Code:
Open QR Droid 4, select tab "Share" and touch option "URL Address"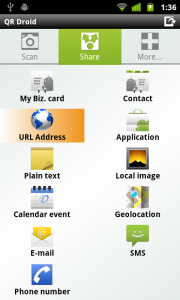 Now, browse from your Bookmarks or enter your Webpage manually. Optionally, you can write a title for your Webpage. After all information is there, just touch button "Shorten". Your long URL will be replaced with a short one, starting with http://qr.ai/u…
Here, you can Copy or Share short URL, even before converting it to a QR Code! Just press one of those buttons. If you press Share, you'll be able to send short URL by e-mail, to post it in Twitter, Facebook, G+ and more!
If what you need is to encode it as a QR Code, just touch top-right button.
Now, let's get some stats!
QR Droid 4 saves in your device all short URL you created. You just need to go back to Main menu, select tab "More…" and touch option "Short URLs"
Here, you will get a list of all your short URL. Just touch one item and you'll get these useful options:
Stats: We'll see this in next lines
+ Star: Allows you to mark your favorite items, to appear at top of the list
Copy: Copy short URL, to use in any other app
QR Code: Instantly, get a QR Code to share your short URL
Share: Share your short URL by e-mail, Facebook, Twitter, …
Edit: Change your short URL target! Yes, you can choose to update your short URL target, along with (already published) corresponding QR Code
Open: Just open long/original URL, to verify it's OK
Delete: Delete this item from both your device and our server (this short URL won't exist anymore and won't redirect to anywhere).
NOTE: You have some more options if you press the Menu key (Delete all, Save, Export)
Now, touch option Stats.
Important: First time you do this, it's very likely

there won't be any data

, so no graph will be shown.
Here, you'll be able to know how many hits your short URL had each day. If there's enough data, you can get these stats corresponding to last

Week

,

Month

or

3 months

. Just touch one button to select time period.
That's it!
Get your QR Code stats for free right in your Android, only with QR Droid 4.