0
The 2012 championship was referred to as the first "second screen" Super Bowl. It was estimated that up to 60% of viewers watched the game unfold with phones in hand, tweeting, facebook updating, and following along with the help of some strategically-placed QR Codes. 
Three commercials from last year caught our attention because they utilized QR Codes to add a different dimension to the message. And let's face it, the Super Bowl commercials really are what a lot of us tune in for. Just for fun, here's a compendium of the 25 best Super Bowl commercials.

Coca-Cola
Coca-Cola's anthropomorphic polar bears lead the charge, so to speak. A reminder QR Code in a first-quarter 30-second ad introduced the bears chilling out on their "snowfa."  Throughout the game, the animated bears watched the game live along with about 100 million TV viewers. More than half a million people watched the bears watch the Super Bowl. The live stream showed the polar bears reacting in real time to game developments and ads as they aired. Talk about meta. 
Chevrolet
Proving that Super Bowl ads are now a game of their own, Chevrolet stepped up on several fronts.   They ran ads inviting fans to search for clues with the help of QR Codes in the carmaker's TV commercials. The Chevy Game Time mobile app also debuted last year.  The app allowed viewers to interact with each other, participate in polls, and win prizes during the game. However, the ad that got the most attention showed a group of men who survived a world-destroying apocalypse, as predicted by the ancient Mayan calendar, because they all owned Chevrolet brand trucks.  One asks about the fate of a friend.
"Dave didn't drive the longest-lasting, most dependable truck on the road," another man tells him. "Dave drove a Ford."
Ford was not amused.
They sent a cease-and desist letter to both GM and NBC on game day asking them to pull the ad from the line-up.
The ad ran, Chevy sales went up, Ford was left gnashing its corporate teeth. 
Go Daddy
Many viewers tune in each year to see how far Go Daddy's ads will well, go, daddy. The usually controversial ads last year were no exception. Both ads featured on-screen QR Codes the entire commercial and the one pushing the "cloud" garnered tens of thousands of hits to their site. Go Daddy's controversial "Body Paint" ad raised blood pressure and increased site hits. They saw their 10 millionth customer sign up during the Super Bowl game last year. Go Daddy claimed it "broke its own records for sales on a Super Bowl Sunday." In the same press release it also noted that its commercial featuring a QR code produced the "best mobile website traffic … ever."
Rumor has it supermodel Bar Refaeli will be starring in a racy adfor Go Daddy this afternoon which the CBS censors have already taken scissors to.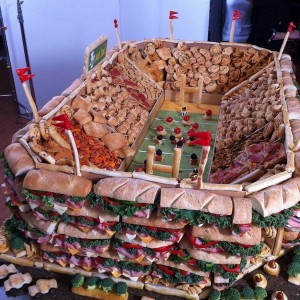 Leave a comment about your impressions of the Super Bowl ads this year.  Use the best barcode scanner app around:  QR Droid for Android and Zapper Scanner for iOS.  Did you use a QR Code to interact online?  Tell us about it!