0
Starting today, QR Droid has been included by Android Market in its TOP FREE group of apps, under Productivity category, just next to other must-have Android apps.
You just need to go to https://market.android.com/, and click Productivity. You'll see a list of the best Android apps of this category: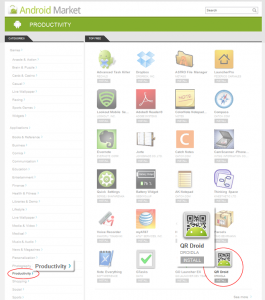 https://market.android.com/apps/PRODUCTIVITY/
Right now, QR Droid does not have the best place under this featured list, but we expect it'll make its way up. After all, it's been only around 3 and a half months since it was first released.
If you still don't have this great app, click here to learn more about QR Droid, or get it from free here: