3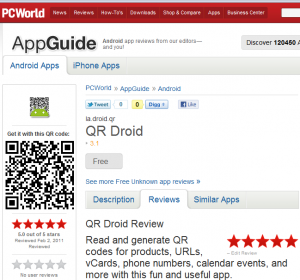 We're really excited to announce PCWorld.com has just released a review of "QR Droid", as they did a few days ago about our other app, Periodic Table Droid.
As you probably know, they're really strict about giving away stars. However, "QR Droid" (as well as "Periodic Table Droid") has got "5.0 out of 5 stars". Only 25 apps until now (February the 2nd, 2011) has been rated 5/5, from exactly 120.450 apps listed in PCWorld.com.
Here's a little extract from this review:
Read and generate QR Codes for products, URLs, vCards, phone numbers, calendar events, and more with this fun and useful app.
Read the full "QR Droid" review here:
http://www.pcworld.com/appguide/app.html?id=765916
In case you're curious, you can read PCWorld's review of Periodic Table Droid, here: