0
Here, I will show you a really easy and nice way to share any Geo-location with your Android, using a QR Code.
First, you will need QR Droid in your Android. To read more about it and get it free, click here:
Open QR Droid, select tab "Share" and touch option "Geolocation"
Here, you can share any location in the World from one of these methods:
If you already know decimal Geo-coordinates (ex: -78.25333), just enter them in fields Latitude and Longitude
If you know Degrees, Minutes and Seconds (ex: -78° 15′ 12″) from each coordinate, touch button "Convert"
If you have a Google Maps link, just paste it in last field and touch green arrow. QR Droid will extract coordinates from your link.
Finally, if you want to get a Map and be able to find your location easily, just touch button "Map".
I will explain this last option further:
Touch button "Map". You will get a complete Google Map:
This Map allows you to do these tasks:
To go directly to some address (a country, state, city, and/or streets), enter it in the filed and press search button. If more than one result is available, you will get up to 3 options and you'll be able to choose one.
To change the zoom in the map, just move it slightly and zoom controls will appear, or use the pinch-to-zoom feature
To select a location, just tap it. Green marker will move accordingly
After you have selected your location, touch button "Use this Address". Latitude and Longitude will be pasted in your initial fields
Now that you have your required Geo-coordinates, touch top-right button to get a QR Code from them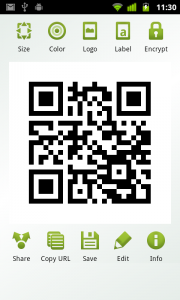 Now, show this QR Code to anybody so he scans it with his camera from your scree. Or, better yet, touch "Share" or "Save" buttons to post it in Facebook, Twitter, send it by e-mail or save it in your SD card to print it latter. It would be really nice to include this QR Code in your next party invitation
After your friend uses QR Droid to scan this QR Code with his camera or from an attached file in an e-mail he gets from you, this is what he will get:
As you can see, he immediately gets Geo-coordinates in both decimal (40.714) and degree (40°42′ 50.97″) formats, along with a general location name (Manhattan, NY, US) and a mini Google Map.
To get more information, he just has to touch button "Internal Map" to get this:
There, he'll be able to zoom or move the map, to find any useful reference. If he gets lost after doing that, he can even re-center shared location by simply touching a button
He can also do other stuff with this location:
Open app Google Maps
Get directions to drive to your share location! (this feature is not available with all locations)
Copy, Share, get more information about the core
He can even get a QR Code or edit it immediately to share with somebody else, without typing anything again
To start using this great way of sharing any location in the World, get QR Droid now in your Android. Just scan or touch this QR Code: