6
QR Droid 4 Beta has been released!
The best QR Code processor has just became better! QR Droid lets you use your camera to scan a QR Code in a magazine and watch a video immediately! Or create a code from a Contact stored in your phone, let a friend scan it and get that info transfered! And much more…
If you are new to QR Codes or QR Droid, please read:
What are QR Codes? | Features of QR Droid
What's new?
Completely new UI: QR Droid 4 has been completely redesigned. Check out these screenshots:
Preview: The most advanced preview feature. Now, you can now exactly what a QR Code contains right after scanning it! Check out these images showing previews of: A YouTube video, a Geo-location, a Book and a Webpage:
QR Code creation: One of the best features of QR Droid 3.9 was its powerful QR Code creation engine. It got better! After you create a code, you can change its size, color, add a logo and label, and even encrypt it: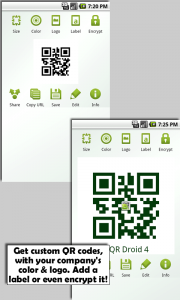 Default action: Now, you can choose exactly what to do automatically right after you scan a QR Code,

without touching any button

. The best part is you can set it independently, for each type of code. You can decide to open automatically QR Codes with Web links, to show a mini Google Maps for Geo-locations, but to leave it manual for plain-text codes. This feature (first/left image), along with shortcut creation (second/right image), makes QR Droid 4 the fastest QR Code reader.
In-app help: If you are new to QR Codes or QR Droid, don't worry. First time you launch the app, you'll get basic instructions about QR Codes and how to use QR Droid:
Then, what are you waiting for? Get QR Droid now!