4
Now, you can create your own colorful QR Code right from your Android device! Just follow these steps:
Open QR Droid (version 3.7 or greater) and select any option under "Generate." For example, let's choose Application
Select the application you want to share and press the top-right button to create your QR Code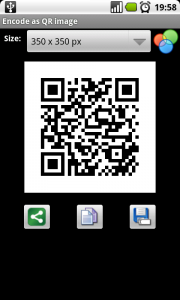 Click this icon: A dialog box will come up.  Just choose any color you want. Your QR Code will be updated with that color!
Now you can save your image, share it or copy its URL. Your QR Code will be displayed in your chosen color!
Important:
To make your QR Codes compatible with all readers, they must be as dark as possible
The Google Chart API does not support color QR Codes; because of that make sure you choose "QrDroid.com" when copying or sharing color QR Codes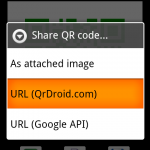 For the best QR Code scanner, reader and generator for Android, download QR Droid: